Advanced Partitioning Solutions offer partition systems that are designed to provide you with a tasteful and practical way of dividing your office space.
Regardless of whether you want to divide, reduce or enlarge the available space in your offices, shop, warehouse or any commercial premises, our partition systems and suspended ceilings will make your working environment more functional. In addition, the office settings will become more efficient and considerably more comfortable for you and your staff.
Advanced Partitioning Solutions are proud to be able to work alongside the UK's market leaders in the design and manufacturing of a range of different types of partitioning options.
OUR RANGE OF PARTITIONING SYSTEMS INCLUDE:
Metal stud and plasterboard to achieve various standards for fire and sound
75mm / 100mm demountable aluminium framed partitions – solid / full height single and double glazed / part glazed
Timber framed partitions
Full height silicon / dry jointed glass partitioning system complete with manifestations and logos
Bespoke moveable partition walls manual or electric
Bespoke glass and timber veneer doors
Surface or integral blinds
Industrial steel partitioning systems
Washroom / cloakroom cubicles, vanity units and IPS panel system
Tape and jointing finish
PVC hygienic wall cladding systems
Complete decoration service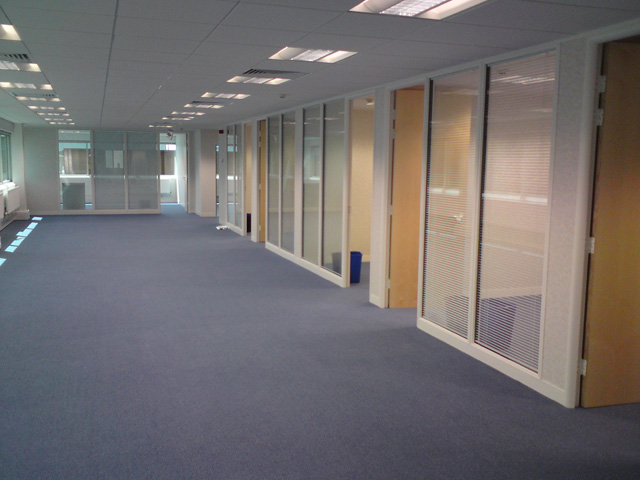 75mm solid and full height double glazed partitioning system complete with powder coated aluminium frames, full height oak Veneer door modules, integral blinds and Muraspec vinyl wallcoverings.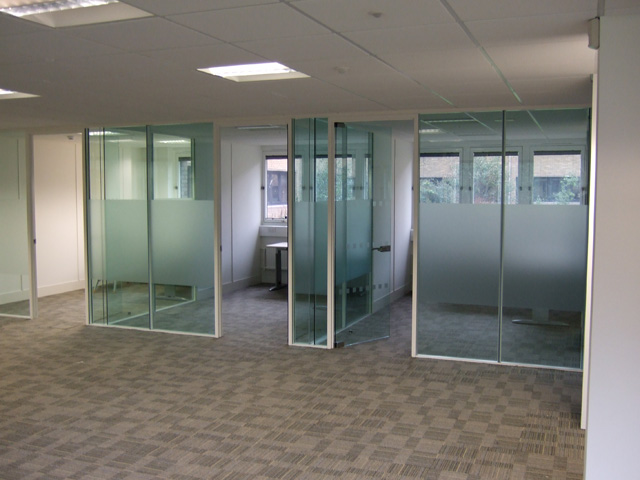 Full height double glazed Polar silicone jointed partitioning with manifestations. Full height 12mm toughen glass doors with stainless steel patch hinges and locks.
If you would like further information regarding any of partitioning services please contact us on on 01258 456 630 or info@advancedpartitioning.co.uk.